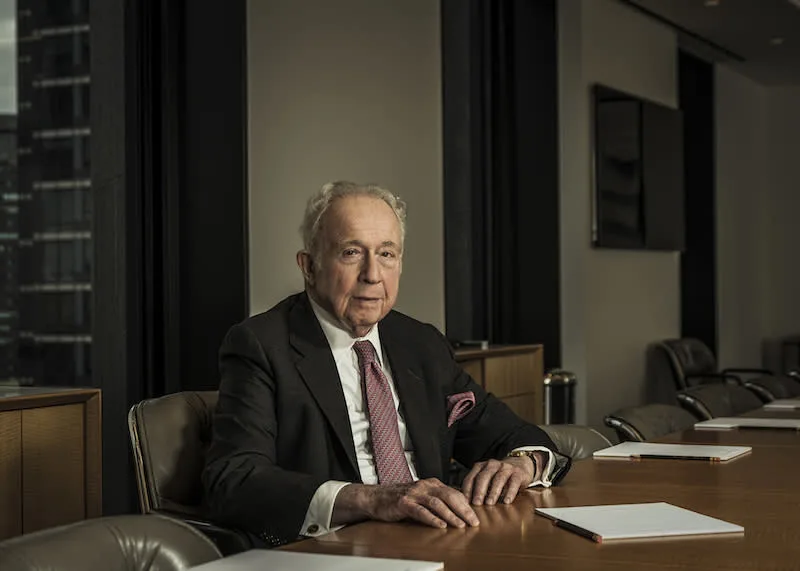 Martin Lipton, Founding Partner of Wachtell, Lipton, Rosen & Katz
It's time to get over the idea that shareholder returns are a corporation's only concern.
That's a central tenet of The New Paradigm, a progressive approach to corporate governance designed by Martin Lipton, Founding Partner of Wachtell, Lipton, Rosen & Katz. In an interview with CorpGov, Mr. Lipton discussed a lengthy paper he co-wrote with colleagues entitled "It's Time To Adopt The New Paradigm", and how corporations can start running themselves better for the sake of all their stakeholders.
To support his view, Mr. Lipton underscored some history about corporations, pointing out that general corporations originally were allowed to form because of state government permission. They weren't just created to benefit their owners, but employees and the communities where they operated, he said.
"Corporations are a creature of government and you're only allowed to form a corporation for certain purposes," he said. "But nothing suggested their sole purpose is to make money for shareholders."
That notion changed, however, in the 1960s when economist Milton Friedman posited the idea that shareholder profits were indeed the sole purpose. In short order, that idea caught on and became doctrine, with the CEO of virtually every public company believing it was his duty.
"It was all nonsense," Mr. Lipton said. "People may have woken up to it after the crisis and realized we're on the wrong path, but we haven't worked it out in time. The average worker's wage hasn't kept up with inflation."
The New Paradigm envisages cooperation and active communication between senior management, boards, and all stakeholders – not just shareholders – to achieve long-term value. Ideally, the various parties would work together in a supportive rather than combative manner.
Naturally, Mr. Lipton acknowledges that companies – both senior management and boards of directors – may at times need some prodding. But he believes there are multiple parties who can engage with leadership long before an activist shows up.
Namely, large institutional investors such as Blackrock, Vanguard and State Street should be important watchdogs. Mr. Lipton said that such managers, who often own a combined 15% of the shares of listed companies, have indeed embraced the right mindset. And they're well suited for the role because of the fact that they may own stocks for decades, he said.
"Institutions have control," he said. "The New Paradigm recognizes that control is in the hands of a limited number of shareholders and sets up a process of engagement. Sometimes institutions will need to tell companies 'we aren't satisfied.'"
Even so, it's reasonable to ask if activists can ever play a constructive role or if they are always the enemy. After all, Mr. Lipton's firm, Wachtell, has defended companies in vicious proxy fights, such as when it worked with Goldman Sachs in 2014 to help Darden Restaurants fend off activist Starboard Value.
Asked if activists are ever necessary, Mr. Lipton said they should be a last resort rather than a prominent feature of corporate responsibility. "The New Paradigm does not eliminate the activist or protect badly-managed companies," he said. "It puts the activist in the back seat but the activist can jump into the front seat if really needed."
The New Paradigm also puts some limits on the power of board directors who aren't performing. Some major companies still have rules allowing directors to remain in their seats even if they fail to win a majority of votes in what's known as an uncontested election. In those cases, there is no other candidate, so a director could theoretically get just one vote to keep a seat.
That's the current situation at regional newspaper company Lee Enterprises, which faces criticism from activist investor Cannell Capital. The activist is urging shareholders to vote "no" for the only three directors up for re-election. Wynn Resorts went through a similar battle with Elaine Wynn last year. Although the vote technically didn't force Wynn Resorts to act, the strong dissent apparently sent a loud enough message that the company replaced its chairman.
Mr. Lipton said such votes against directors should actually have "teeth." In the event a director doesn't win a majority of the votes cast, that director should tender his or her resignation, he said.
Mr. Lipton has shared the ideas behind The New Paradigm with clients and is hoping to gain momentum. "Everybody has been receptive to it," he said. "But almost no one has done anything about it."
Contact:
John Jannarone, Editor-in-Chief
www.CorpGov.com
Twitter: @CorpGovernor