Globalstar Also Reports Key 3GPP Approval for Spectrum It Wants to Monetize
Embattled satellite-communications firm Globalstar has settled a lawsuit with minority shareholders, agreeing to sweeping changes in the company's corporate governance designed partly to prevent any self-serving transactions by Executive Chairman Jay Monroe.
Shares of the stock, which had fallen precipitously so far in 2018, rose as much as 20% in early trade Monday.
Globalstar will replace three existing directors with three new, independent directors: Keith Cowan, Ben Wolff and Mike Lovett. Two of those directors, Messrs. Cowan and Wolff, are designated "minority directors" and the seats they take will be always filled in the future by a vote of minority shareholders.
The two minority directors will also join a newly-formed Strategic Review Committee comprised of four people in total. That committee immediately will focus on financing options for the company, which is hobbled with a quickly-amortizing debt load that has forced it to raise equity a number of times in recent years.
Also on Monday, Globalstar said that Third Generation Partnership Project (3GPP) had approved a global standard for use of some spectrum that the company owns but has struggled to monetize. The news is encouraging because it may make it easier for technology companies to use the spectrum with a wide range of telecommunications devices. According to court documents from July reviewed by CorpGov, AT&T has told Globalstar to get 3GPP approval and then "come back to them" to resume talks. AT&T declined to comment to CorpGov.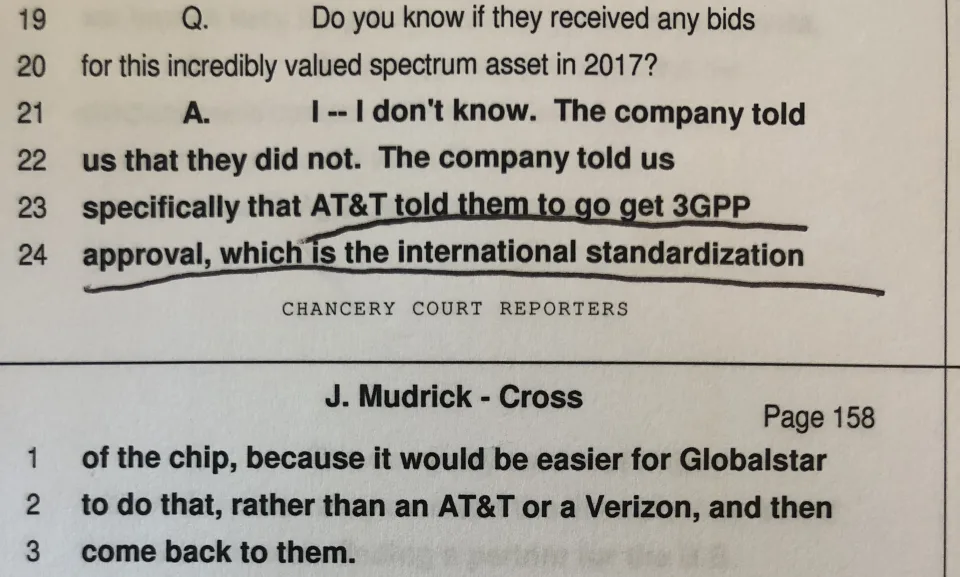 Globalstar had been at war with number-two shareholder Mudrick Capital Management since April when Globalstar announced an all-stock deal to acquire some of Mr. Monroe's other assets in a $1.65 billion transaction. The planned merger, which the company canceled in August, would have diluted minority shareholders such as Mudrick Capital while sending Mr. Monroe's stake from 58% to nearly 90%. The deal was almost universally panned, with the stock sinking after announcement and analysts at Cowen and Morgan Stanley calling out a rich valuation.
Part of the Strategic Review Committee's mandate is to approve any related-party transaction involving Mr. Monroe or his affiliates. That includes the issuance of more shares to Mr. Monroe or major transactions such as mergers or reorganizations. The Committee's approval will also be required for future changes to the board such as the number of directors or their terms.
To allay near-term liquidity concerns, Globalstar will conduct an equity offering of up to $60 million this week, with Mudrick Capital, Warlander Asset Management, and Mr. Monroe purchasing amounts commensurate to their existing ownership in the company.
The bitter legal battle with Mudrick Capital earlier this year revealed that Mr. Monroe may have gone to unusual lengths to push his desired transaction through. As CorpGov explained in an article in October, that transaction was not approved by minority shareholders but a special committee that relied on a so-called fairness opinion prepared by Moelis & Company. According to court documents reviewed by CorpGov, Moelis was at least the fourth investment bank Globalstar had contacted regarding Mr. Monroe's assets and one of them, Houlihan Lokey, appeared to be passed over for the fairness opinion assignment because it wanted to do too much objective analysis. Some of those banks had been issued subpoenas but those will be dropped now that the litigation has been settled.
The three new directors bring significant telecommunications industry experience. Mr. Cowan was previously President of Strategic Planning and Corporate Initiatives at Sprint. Mr. Wolff is a co-founder of Clearwire Corp where he was CEO and more recently has been Chairman and CEO of Sarcos Robotics, which focuses on tele-operated robots. Mr. Lovett was CEO of Charter Communications until 2012 and currently is managing director of Eagle River Partners, a private investment and advisory firm.
"We are pleased to have reached agreement with Mudrick Capital and Warlander and appreciate their support moving forward," Mr. Monroe said in a press release. "Litigation is costly and time consuming, and we prefer to focus our time and resources on moving towards value realization which this settlement frees us up to do.  We continue to believe in Globalstar's potential and welcome the new directors to help us realize it.  Our management team looks forward to working with the Strategic Review Committee and the full Board of Directors on the continued thoughtful examination of our business."
Contact:
John Jannarone, Editor-in-Chief
www.CorpGov.com
Twitter: @CorpGovernor