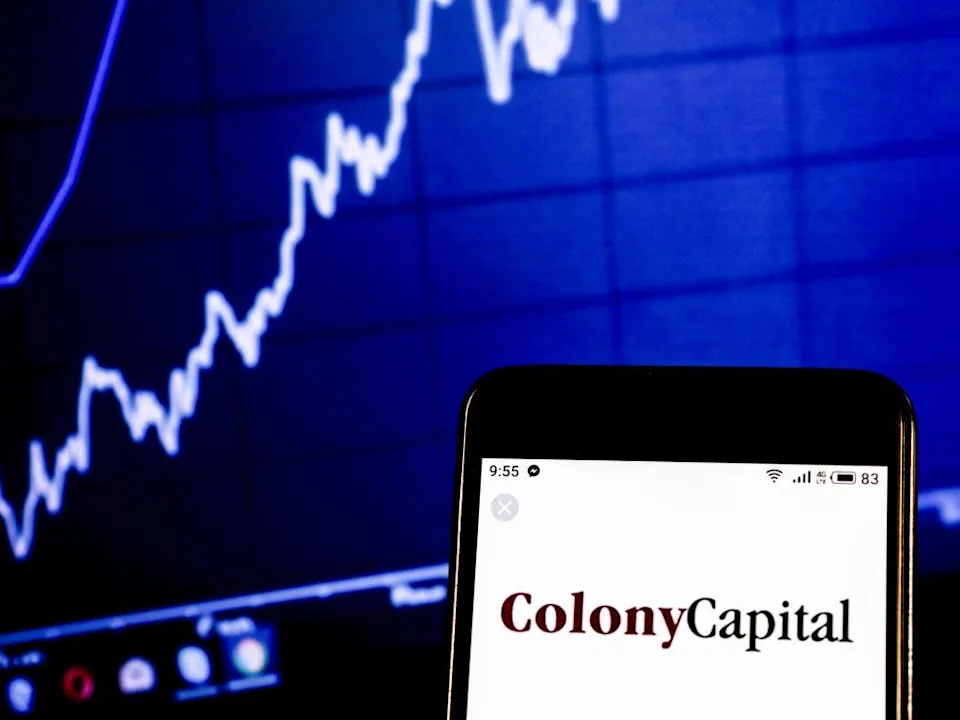 Colony Capital Appears Undervalued with a Sum of the Parts Valuation Over $11 per Share 
Colony Capital (ticker: CLNY) is a maze of real-estate assets that many investors have elected to avoid. But with activist Blackwells Capital's pressure on the company, there is a clear path to big rewards.
With a $2.5 billion market capitalization and $43 billion of assets under management across 12 countries, Colony is structured as a publicly-traded real estate investment trust (REIT), but is effectively an undervalued holding company of quality real estate assets. Shares of Colony have fallen to $5 from $15 in early 2017 when the current company was created through a three-way merger between Colony and two other publicly-traded real estate companies. The newly-formed business was expected to benefit from cost savings, scale, diversification, and top-notch corporate governance.
Instead, it flopped almost immediately. In 2017, the company posted core funds from operations, a key metric for REITs, of $1.16 per share, about 30% below initial guidance. At the time, Colony Founder and current CEO Thomas Barrack blamed a slower-than-expected integration and the "inherited" business from the merger partners.
Shares of Colony have continued to sink – for reasons that extend beyond merger-integration pains. First, the company has a sprawling mix of income from sources around the world that can be tough for REIT investors to follow all at once: They include multiple REIT groups (industrial, healthcare and hotels), two stakes in public companies (Colony Credit Real Estate and NorthStar Realty Europe), a hodgepodge of other real-estate fund investments, along with an alternative asset management company that collects recurring management fees to manage an $18 billion portfolio of real estate funds catering to institutional investors.
The company's unusual profile also makes Wall Street analysts reluctant to follow it, further reducing investor interest. Despite having a market capitalization of $9 billion when the merger closed, just three analysts actively cover Colony – a small fraction of what a company of this size would normally attract.
Colony doesn't appear focused on raising its profile in the investment community. Its financial reports are convoluted and investor relations efforts appear to be an afterthought. Most public companies of Colony's size have an in-house team of investor relations professionals. The company, despite its troubles, wasn't even present at the annual NAREIT conference in June, one of the real-estate industry's largest events.
The good news: Change is afoot. In February, New York-based activist Blackwells Capital signed a cooperation agreement whereby the company pledged to add three independent directors to the board recommended by Blackwells with strong real estate, M&A, and capital markets experience. The board also formed a Strategic Asset Review Committee, tasked with "reviewing, evaluating and making recommendations to the Board on issues related to the Company's assets and business configuration."
Despite its complex structure, there are some simple ways to extract value from Colony by selling assets. And given that no substantial news has been announced since February – while the stock has continued to underperform – the pressure on the management and the board to effect positive change is likely mounting.
As a starting point, Wall Street sell-side analysts who cover the company calculate a considerably higher intrinsic value for Colony than its current share price. B. Riley FBR analyst Randy Binner estimates a "probability adjusted" net asset value (NAV) of $7.55 per share while Mitch Germain of JMP Securities calculates an NAV of $8.00 and Jade Rahmani of Keefe, Bruyette & Woods has an estimate of $6.16. Those targets, taken as an average, suggest a healthy 40%
upside from the current stock price.
But there's reason to believe the analyst estimates are conservative. In some cases, strategic buyers could see far more value in the company's assets than the public market – or the Wall Street analysts – assign to them. A CorpGov analysis of Colony's assets estimates a NAV value of over $11 per share based on a sum of the parts valuation.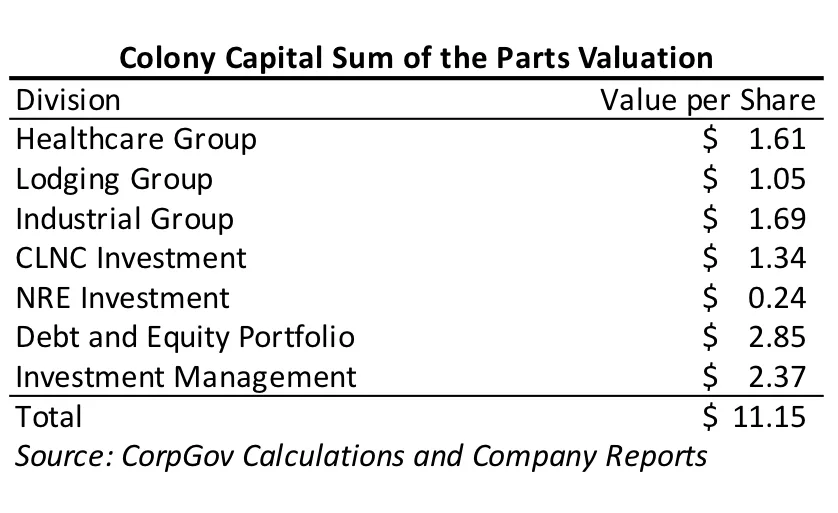 First consider the healthcare group, a steady business that generated about $300 million in net operating income (NOI) in the last 12 months. It's no secret that the assets are attractive; at least one other player in the sector has said publicly it would like to own them and many more may hold the same views privately. "[W]e have a really great working relationship with Darren and Tom and the team at Colony. And if they decided to sell the asset, I think we're in good spot," healthcare REIT Ventas's Chief Investment Officer said in June.
Assuming a cap rate (a common REIT valuation metric reflecting NOI or rental yield) of 6.5%, within the range of comparable assets, the healthcare group could be worth about $1.1 billion, or $1.61 a share
Similarly, there is very strong demand for industrial REIT assets as companies seek out warehouse facilities for goods that are increasingly stored and shipped directly to consumers – the so-called Amazon Effect. In June, Blackstone spent $18.7 on such assets in one of its largest deals ever, with observers estimating a cap rate in the 4% to 5% range.
What might Colony's industrial group be worth? Assuming a 4.5% cap rate and an uptick in income from a recently announced deal, the asset could have an enterprise value of $6 billion, with Colony's equity worth $1.2 billion or $1.69 a share.
Colony's hospitality group, of which the company owns 94%, might also command a premium multiple if it were sold to a strategic buyer that could find synergies. Put on a multiple of, say 12 times, just above a typical industry multiple to account for a takeover premium, the division would be worth over $700 million, or $1.05 a share.
Then there is Colony's stake in Colony Credit Real Estate (ticker: CLNC), a mortgage REIT that yields over 11% and trades at a discount to its book value. The industry has seen consolidation in recent years and Colony's 37% ownership interest in CLNC could be sold to a larger mortgage REIT, private equity group, or large asset manager. If the stake were sold at a 25% premium to current prices, it would fetch $940 million and be worth about $1.34 a share to Colony investors.
Just last week, one of Colony's holdings was indeed bought out. On July 3rd, publicly-traded NorthStar Realty Europe (ticker: NRE), of which Colony owns 11%, announced that it was selling itself to Axa Investment Managers. The company will wind up receiving about $165 million from its shares and a make-whole payment related to its management of the NRE assets. The cash proceeds could be used to repurchase Colony shares.
Another large, but perhaps overlooked, asset is the company's collection of debt and equity investments. Those have been written down substantially in the last two years. Taken at book value of $2 billion, they are worth $2.85 a share – more than half the current stock price.
A final area that investors should study closely is Colony's investment management business, which oversees $18 billion in fee-paying assets. Many alternative asset managers have been trying to play catch-up to the gargantuan real estate unit of the Blackstone Group (ticker: BX), and an acquisition of Colony's group – which still has a strong reputation – would go a long way.
The group's asset growth is accelerating due to a number of new developments: the closing of a $5 billion digital infrastructure fund, its recent commitment in May to invest $5 billion in Latin America over the next five years through its Colony LatAm segment, and its recently-announced $14.3 billion leveraged buyout of Zayo Group Holdings. Mr. Barrack said on the company's fourth-quarter call he would hope to see fundraising reach $10 billion a year in third-party capital within three years, a reasonable target.
Just who would want to own Colony's asset management group? Publicly-traded alternative asset managers like Apollo (ticker: APO), Carlyle (ticker: CG), KKR (ticker: KKR) and Ares (ticker: ARES) have little in the way of real estate assets under management relative to their core private equity and credit businesses. In turn, they could be interested buyers and pay for Colony with cash or highly-valued stock.
Putting Colony's asset-management products through the large and established sales teams of more diversified asset managers could dramatically accelerate growth. One analogue is credit-fund manager GSO, which was acquired by Blackstone a decade ago. Since then, Blackstone's extensive relationships with limited partners have allowed GSO to flourish.
Blackstone itself could be a natural acquirer of Colony's asset management group – or even the entire firm.  Blackstone has a unique set of real estate and tactical opportunity funds that could divvy up Colony's underlying holdings. There are also many larger privately-held asset managers globally that would likely participate in an auction of Colony if the company were to explore a sale. Such acquirers might include PIMCO, MassMutual Financial Group, AEW, Hines, Clarion, TPG, or Lone Star. On the real-estate side, Colony could garner significant interest from the likes of Brookfield Asset Management (ticker: BAM), Starwood, and large publicly-traded REITs.
As for downside protection, investors should take comfort in the fact that Colony has a 9% dividend yield, far above the industry average. For example, the iShares U.S. Real Estate ETF (ticker: IYR) has a 3% dividend yield.  With the Federal Reserve now looking dovish and likely to cut rates, such an asset should be well-supported in months ahead.
Put another way, the market may only be ascribing value for, say, the industrial, healthcare, and hospitality REITs and nothing for the two public company stakes, the run-off real estate portfolio, and the attractive and growing alternative-asset management business. Likely corroborating this deep value approach is storied investor Seth Klarman, founder of Baupost Group. Mr. Klarman's firm is Colony's second largest shareholder, owning more than 10% of outstanding shares. He is known as a deep value investor whose style has been compared to Warren Buffett's.

Mr. Barrack, meanwhile, owns only 5% of the company and has done little to impress investors in the last few years. He has continued to take a hefty salary from Colony, despite working only as Chairman between 2014 and November 2018, when we reassumed the CEO role. His compensation was $25 million over the last three years while the executive team in total took down $73 million.
It's also worth remembering the "golden parachute" of an incredible $202 million that was paid to executives of the other two companies in the 2017 merger. Amazingly, some of those executives received accelerated-performance payments even beyond that.
Meanwhile, Colony shareholders have lost huge sums over the last three years while the market continued to climb higher. Colony's poor long-term share performance speaks for itself and the last few months haven't been much better. The shares are down 16% since Blackwells' involvement was announced in February while the Wilshire U.S. REIT index is up 6%.
Blackwells has a successful history of managing, improving, and operating businesses, particularly in real estate. Just last year, it became a vocal investor in grocer Supervalu, which wound up being sold at a healthy premium. The nomination window for new board nominees is open between October and November. If Colony does not take aggressive action to unlock trapped value or explore a sale of the company by that time, Blackwells would likely look to replace more Directors on the board and refresh executive management, according to a person familiar with the matter.
Contact:
John Jannarone, Editor-in-Chief
www.CorpGov.com
Twitter: @CorpGovernor