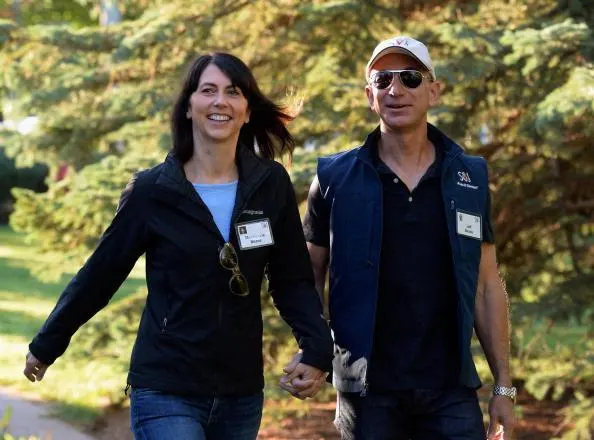 MacKenzie Bezos in a Patagonia and Jeff Bezos in a SCOTTeVEST at the Allen & Company Conference in Sun Valley, ID
SCOTTeVEST CEO Scott Jordan is calling Patagonia out for its attack on Wall Street.
Mr. Jordan, whose company produces vests that have been sold to major financial firms such as Allen & Company and Silicon Valley Bank, said Patagonia's recent decision to dial back its production of vests and other gear with some corporate logos is nothing more than a publicity stunt.
"I call bull**** on them as a PR stunt," Mr. Jordan told CorpGov in an interview. "It's so disingenuous to say 'we don't want money anymore.'"
Mr. Jordan added that Patagonia shouldn't be so "judgmental" of its customers. "Do we really want clothing manufacturers judging our morals and values?"
The decision at Patagonia hinged on its belief in working with companies that uphold certain environmental and social standards, or "prioritize the planet." That rules out many companies in sectors like energy and finance, which had become big buyers of corporate-logo vests in recent years.
In fact, a growing number of "finstagram" accounts on Instagram document the role of Patagonia in Wall Street style, including Litquitidy, Arbitrage Andy, and Midtownuniform. Mr. Jordan himself has weighed in on the "vest craze" in Silicon Valley and Wall Street.
Mr. Jordan said if Patagonia were interested in making a difference, it would be better off simply making donations to charity.
"They are more interested in creating click bait than actually helping the planet," he said. "They should let the customer decide what they want to buy."
In response, he has also decided to offer a 15% discount to customers who use the code "PATAGONIA" and will give a portion of the proceeds to charity. Mr. Jordan says he welcomes corporate customers in any industry and they can create customized products on his website.
"I want more people to wear our products," Mr. Jordan said. "I don't discriminate."
Both SCOTTeVEST and Patagonia have produced vests for Allen & Company's annual conference in Sun Valley, Idaho, which is close to Mr. Jordan's home and headquarters in Ketchum. The event always draws an elite group of attendees, ranging from Amazon CEO Jeff Bezos to Facebook CEO Mark Zuckerberg to Berkshire Hathaway CEO Warren Buffett.
Mr. Jordan coined the term "eVest" referring to the design of his vests, which are made with many pockets to hold various gadgets like phones and tablets. Mr. Jordan and his wife, Laura, founded the company 20 years ago and it now generates nearly $20 million in annual sales.
In addition to running SCOTTeVEST, Mr. Jordan is actively involved in a passion project called YAY Margaux, named after one of his standard poodles that passed away last year after losing both her hearing and vision. Mr. Jordan's personal experience with Margaux gained a social-media following on Facebook that inspired him to publish a children's book about her struggle. The success of the book ultimately led him to create a media platform supporting a broader movement called YAY Margaux (see more on the website and Instagram). He also frequently makes donations "no kill" pet shelters.
Patagonia didn't respond to a request for comment from CorpGov.
Contact:
John Jannarone, Editor-in-Chief
www.CorpGov.com
Twitter: @CorpGovernor