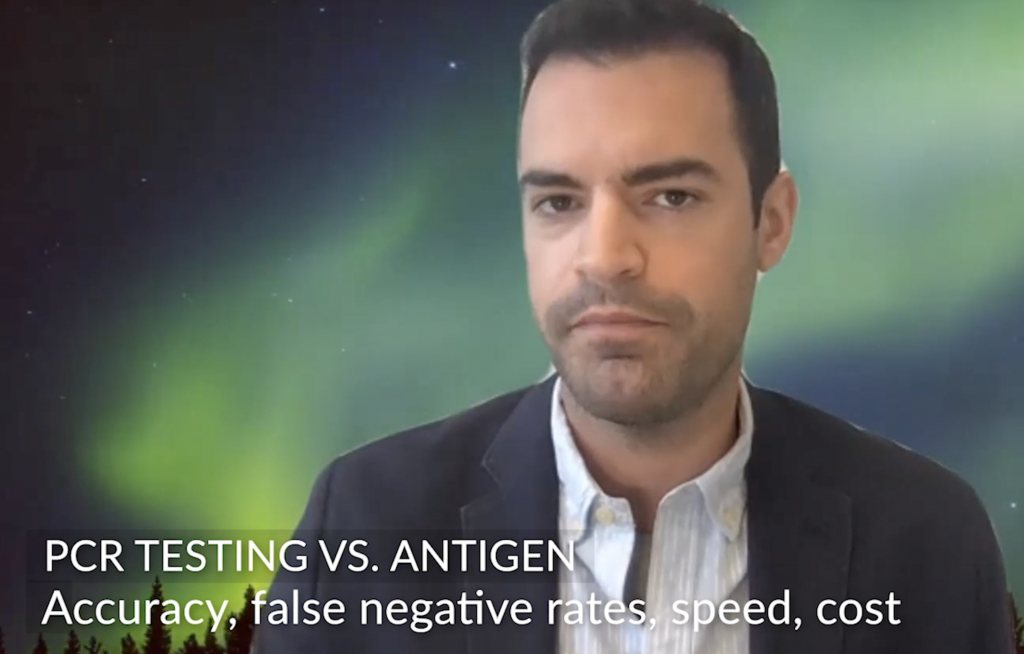 Phosphorus CEO Alex Bisignano at CorpGov's 2nd Reopening the Workplace Event
Saliva tests for COVID-19 can provide employers with regular, out-of-clinic testing as they bring staff back to work even as cases reach new highs around the U.S. and other countries. With flu season approaching, dual test kits including both common influenza and COVID-19 can also offer extra assurance to those seeking to ensure safe workplaces. That's according to Phosphorus CEO Alex Bisignano, who spoke to CorpGov Multimedia Editor Hope King at the second event in the Reopening the Workplace series held Tuesday, October 27.
To watch the full one-hour panel replay and view the transcript, please CLICK HERE. Two clips below also include Mr. Bisignano's highlights from the event.
Phosphorus, which partnered with CorpGov to host the event, was one of the first two companies to secure FDA emergency use authorization for out-of-clinic COVID tests. Phosphorus announced in September it is working with Albertsons Companies, Inc. to begin offering at-home COVID-19 kits, which shoppers can pick up without actually entering grocery stores.
Above, Mr. Bisignano told Hope King that there's been an explosion of tests available, with the two main ones offered being PCR and Antigen. He said Phosphorus uses PCR testing through saliva, which can be done without the aid of a healthcare provider. "It's something that we think is very powerful," he said, adding that the company returns results within 48-72 hours. Phosphorus has done a number of partnerships with companies on regular weekly testing to get employees back to work. "We've seen that people have adhered very well to frequency, when the barriers are really low to get tested," he said. The company is now working on a dual testing structure as winter approaches along with influenza season. "Having a test can detect both influenza and Covid-19 together provides an added layer of knowledge and security as you bring staff members back to work safely," Mr. Bisignano said.
In a Q&A session after the regular panel, Mr. Bisignano said the big fear this winter is that more people will get together indoors. Virus fatigue will also be a challenge as families want to gather for the holidays. At-home testing, such as the kit provided by Phosphorus, is a way to provide assurance that families can remain safe. He personally took a "double-safety" approach by interacting with his family outdoors in addition to testing. Everyone who works for his company has access to testing when they want. "I'm very lucky to have a team that has put their trust in me," he said.
To watch the full one-hour panel replay and view the transcript, please CLICK HERE. 
In addition to Mr. Bisignano, the panel included Alex Bluebond, Senior Associate, Labor and Employment at Vinson & Elkins LLP, who addressed difficult questions around employee treatment, Michael Wallace, Chief Executive Officer at The Perfect Company, whose software helps restaurants such as Yum! Brands, Inc. and giant corporate offices including AT&T Inc. offer touchless foodservice, and Anton Nicholas, Managing Partner at  ICR, who provided expert counsel to companies on how to explain it all to their employees and stakeholders. The panel, hosted in partnership with The Palm Beach Hedge Fund Association, also featured data from Sentieo, an AI-enabled research platform.
Panel topics included:
Onsite and at-home testing: How often to test and best practices
Potential vaccines: The continued role of testing
Employee rule violations: What punishment is needed for legal protection
Communication: How to communicate reopening protocols and to which audiences
Workplace cleaning and disinfecting: Enhanced cleaning and disinfecting practices, including frequency needed to meet CDC guidelines
Personal Protective Equipment (PPE): Policies governing employee use of PPE
Telework: Planning and remote work considerations
Contact:
www.CorpGov.com
Twitter: @CorpGovernor