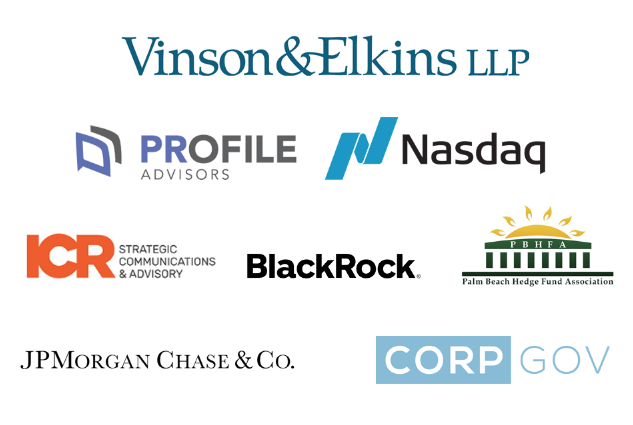 CorpGov, Vinson & Elkins LLP, Profile Advisors, and Nasdaq hosted the third event in the 2020 Governance Series on Wednesday, September 30, at 11am EST: Shareholder Outreach: Preparing for the 2021 Proxy Season. Event partners included JPMorgan Chase & Co., ICR, Morrow Sodali, BlackRock, Inc., and The Palm Beach Hedge Fund Association.
The Webinar ran 90 minutes, including a live Q&A session.
Highlights included:
Pent-up activism from the 2020 proxy season emerging in 2021
Companies "getting a pass" from activists on COVID-related underperformance
The outlook for M&A/consolidation-focused activism
The broadening definition of ESG following the pandemic
The convergence of ESG with proxy/governance issues
Planning appropriate ESG disclosures
The event included two panels:
Activism
Lawrence S. Elbaum, Partner and Co-Head of Shareholder Activism, Vinson & Elkins
Greg Marose, Co-Founder, Profile Advisors
Benjamin Wilson, Head of North America Shareholder Engagement and M&A Capital Markets, JPMorgan Chase & Co.
Michael Verrechia, Managing Director, Co-Head of M&A and Activism Advisory Group, Morrow Sodali
ESG
Sarah E. Fortt, Counsel, Board Governance and Engagement, Vinson & Elkins
Kellie Huennekens, Head of ESG Research, Nasdaq
Tanya Levy-Odom, Director, Investment Stewardship, BlackRock, Inc.
Lyndon Park, Head of Governance Solutions, ICR Inc.
Moderators: John Jannarone, Editor-in-Chief, CorpGov and Hope King, Multimedia Editor, CorpGov
Links to Prior 2020 Governance Series Events:
1st Webinar in 2020 Governance Series: Best Corporate Governance Practices During the Coronavirus and Beyond
2nd Webinar in 2020 Governance Series: Activism and ESG
Contact:
www.CorpGov.com
Twitter: @CorpGovernor