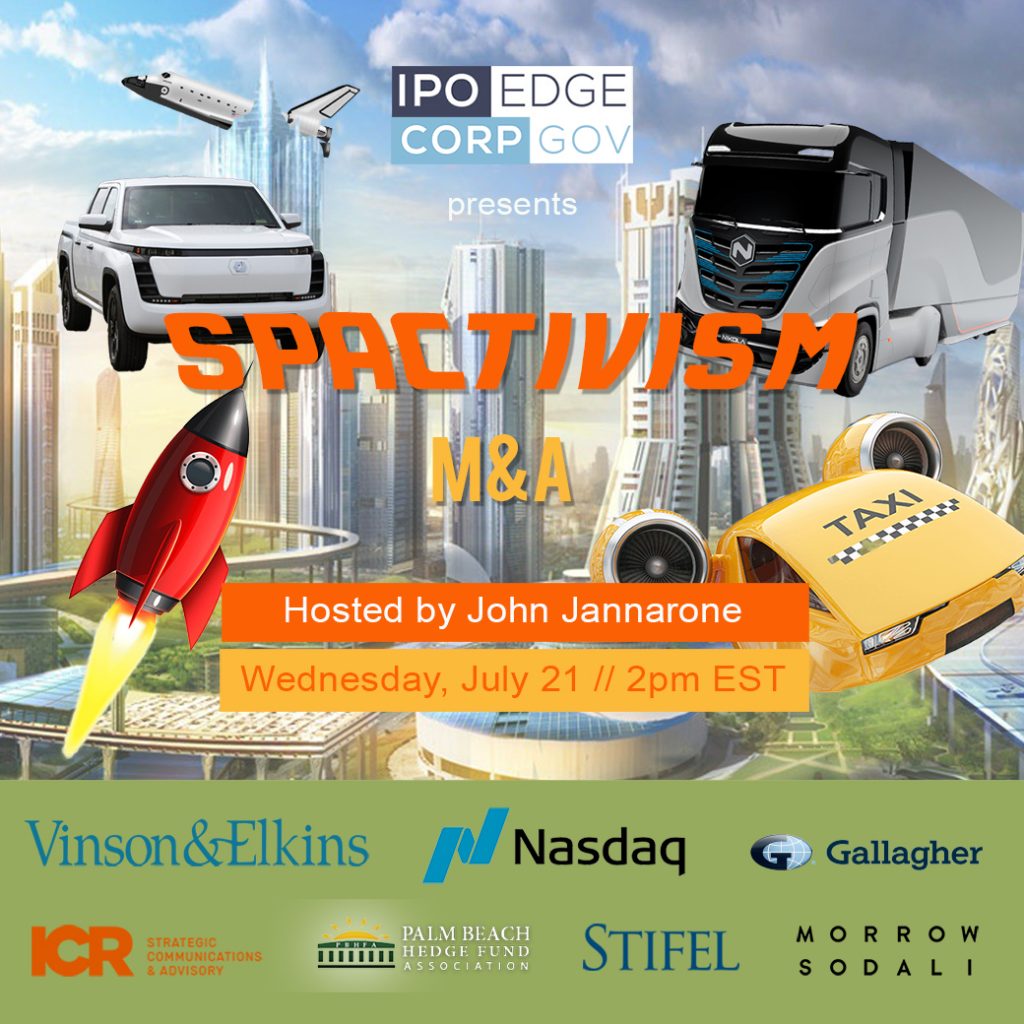 CorpGov, IPO Edge and The Palm Beach Hedge Fund Association hosted SPACtivism and M&A on Wednesday, July 21 at 2pm ET. The event features speakers from Vinson & Elkins LLP, Nasdaq, Gallagher, Stifel, Morrow Sodali and ICR,  running approximately 90 minutes, including a live Q&A session with the audience. John Jannarone, Editor-in-Chief of CorpGov and IPO Edge, moderated the event, which features data from S3 Partners and Sentieo, an AI-enabled research platform.
CLICK HERE TO WATCH FULL REPLAY
Topics include:
Potential shareholder activism in SPACs
Vulnerability assessments for SPACs
Tactics in SPAC activism vs. traditional activism
Activist-driven M&A
Considerations around large retail ownership in activist situations
Panelists:
About:
Vinson & Elkins 
Vinson & Elkins is recognized as a premier law firm with a diversified practice that serves the needs of a global industry. We offer an integrated team of nearly 700 skilled lawyers in 12 global locations in North America, Europe, Asia and the Middle East. For more than 100 years, V&E has achieved excellent results for clients around the world. Our reputation has been built on handling day-to-day matters, as well as those involving pivotal and bet-the-company legal issues. Consistently high rankings in legal directories such as Chambers and Legal 500, among others, reflects the confidence we have earned from clients and peers by delivering excellent results over the long term. For more information, please visit our website at velaw.com  
Nasdaq
Nasdaq (Nasdaq: NDAQ) is a global technology company serving the capital markets and other industries. Our diverse offering of data, analytics, software, and services enables clients to optimize and execute their business vision with confidence. To learn more about the company, technology solutions and career opportunities, visit us on LinkedIn, on Twitter @Nasdaq, or at www.nasdaq.com.
Gallagher
Gallagher is a global leader in insurance, risk management and consulting services. Much more than simply an insurance broker, we are an international group of partners that provide cost-effective, client-centric, and expertise-driven risk management solutions. Our leadership team fosters a dynamic, entrepreneurial culture that has made us an innovator in creating new products and services for our clients.
Our more than 30,000 expert advisors are an integral part of your local business community. Wherever you are in the world and whatever your industry might be, we create and uphold a unique culture based on strong values, collaboration, and professional excellence. Since 1927, we've been working together with our clients to find effective solutions to their challenges, and helping them face their future with confidence.
Stifel
Stifel Financial Corp. (NYSE: SF) is a financial services holding company headquartered in St. Louis, Missouri, that conducts its banking, securities, and financial services business through several wholly owned subsidiaries. Stifel's broker-dealer clients are served in the United States through Stifel, Nicolaus & Company, Incorporated, including its Eaton Partners business division; Keefe, Bruyette & Woods, Inc.; Miller Buckfire & Co., LLC and Century Securities Associates, Inc. The Company's broker-dealer affiliates provide securities brokerage, investment banking, trading, investment advisory, and related financial services to individual investors, professional money managers, businesses, and municipalities. Stifel Bank and Stifel Bank & Trust offer a full range of consumer and commercial lending solutions. Stifel Trust Company, N.A. and Stifel Trust Company Delaware, N.A. offer trust and related services. To learn more about Stifel, please visit the Company's website at www.stifel.com. For global disclosures, please visit https://www.stifel.com/investor-relations/press-releases.
Morrow Sodali
Morrow Sodali provides corporate boards and executives with strategic advice and services relating to a broad range of activities, including: mergers and acquisitions, annual and special meetings, shareholder activist initiatives, multinational cross-border equity transactions and debt restructuring services.
From headquarters in New York and London, and offices and partners in major capital markets, Morrow Sodali serves more than 700 corporate clients in 80+ countries, including many of the world's largest multinational corporations. In addition to listed and private companies, its clients include financial institutions, mutual funds, ETFs, stock exchanges and membership associations.
ICR
Established in 1998, ICR partners with its clients to execute strategic communications and advisory programs that achieve business goals, build awareness and credibility, and enhance long-term enterprise value. The firm's highly-differentiated service model, which pairs capital markets veterans with senior communications professionals, brings deep sector knowledge and relationships to more than 750 clients in approximately 20 industries. ICR's healthcare practice operates under the Westwicke brand (www.westwicke.com). Today, ICR is one of the largest and most experienced independent communications and advisory firms in North America, maintaining offices in New York, Norwalk, Boston, Baltimore, San Francisco, San Diego and Beijing. Learn more at www.icrinc.com. Follow us on Twitter at @ICRPR.
Contact:
Jarrett Banks, Editor-at-Large
Twitter: @IPOEdge