Dear Readers,
Could activists make a surprise run at companies in the normally-quiet fall season? Will proxy advisors lose influence after a key SEC decision and years of corporate lobbying?
CorpGov, in partnership with Nasdaq, Profile Advisors, Saratoga Proxy Consulting, Vinson & Elkins LLP, Jefferies, and The Palm Beach Hedge Fund Association invite you to attend a virtual forum on Thursday, August 13 at 12pm EST: New SEC Regs and Offseason Tactics
Please register at this link
Our panel of experts will discuss several timely topics including implications of new SEC regulations on proxy advisory firms designed to keep their power in check, raising the threshold for ownership disclosures in 13F filings, and the outlook for "offseason" strategies to effect change such as consent solicitations during fall 2020. The Webinar will last approximately 75 minutes, including a live Q&A with the audience.
Just how influential are proxy advisors? Data from Sentieo show mentions of the words ISS, Glass Lewis, and proxy advisor have soared in corporate earnings calls over the last decade, particularly as passive institutional investors defer to their recommendations on key shareholder votes.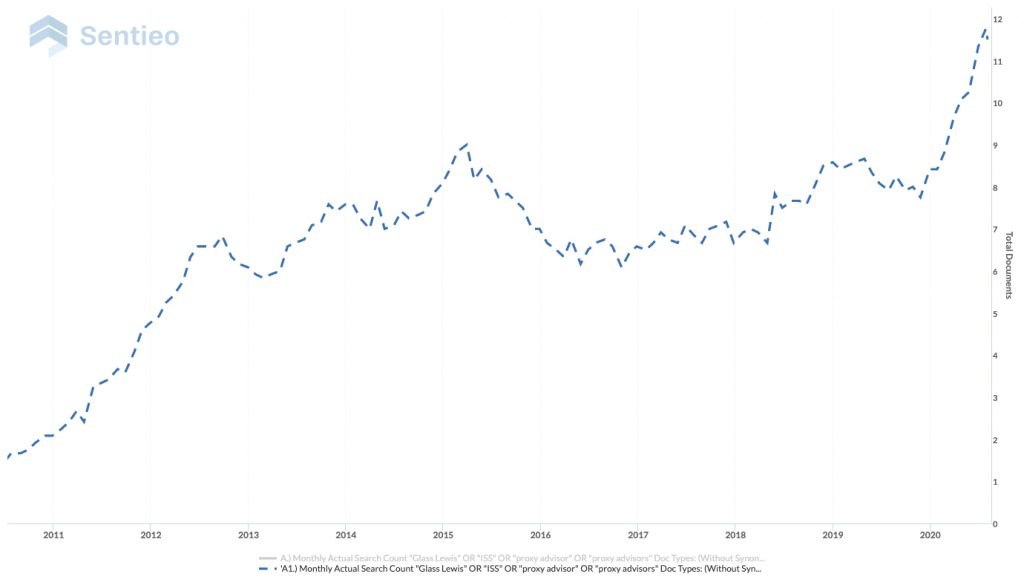 Panelists include:
Lawrence S. Elbaum, Partner and Co-Head of Shareholder Activism, Vinson & Elkins LLP
Greg Marose, Co-Founder, Profile Advisors

John Ferguson

, Senior Partner, Saratoga Proxy Consulting
Erika Moore, VP and Deputy General Counsel and Counsel to the Corporate Secretary, Nasdaq, Inc.
Chris Young, Managing Director and Global Head of Contested Situations, Jefferies Financial Group, Inc.
John Jannarone, Editor-in-Chief, CorpGov (Moderator)
We look forward to you joining us.
Contact:
www.CorpGov.com
Twitter: @CorpGovernor