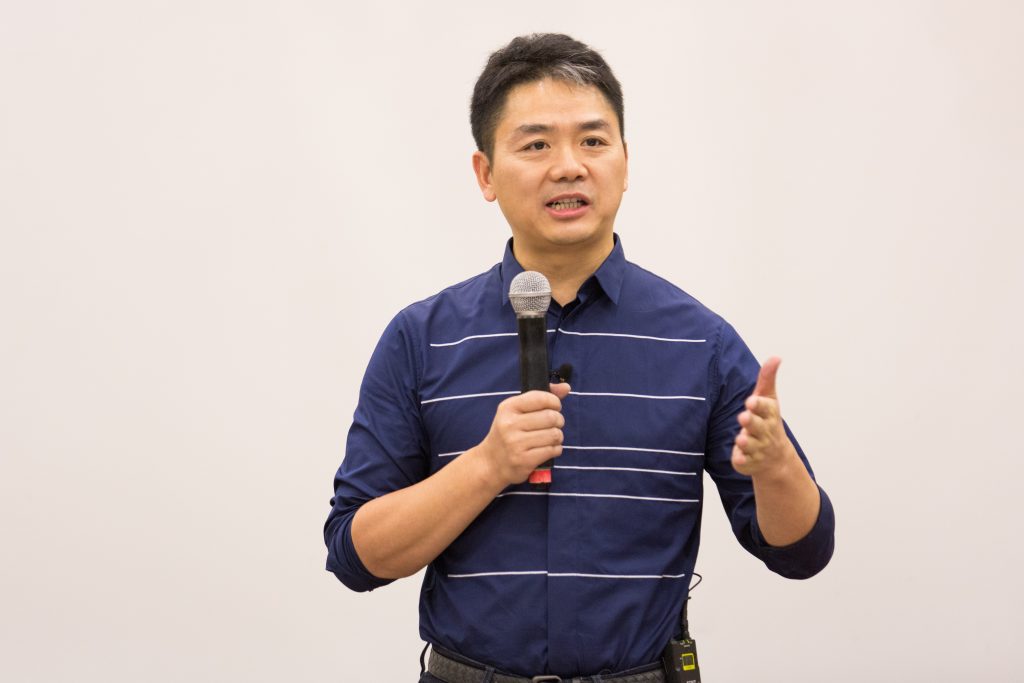 By CorpGov Editorial Staff
Amid the recent coronavirus outbreak centralized in the Hubei province, Chinese e-commerce giant JD.com, Inc. has committed itself to providing aid to those affected in multiple capacities. Known for carrying everything from groceries to apparel to electronics, in the short time since the coronavirus outbreak China's largest online retailer has already allocated upwards of RMB 200 million in support of the fight against the epidemic. However, as one of the most technologically advanced companies in the world, its true contribution has been made by utilizing such advancements for the greater good.
Beijing party chief Cai Qi recently toured the company's headquarters in Yizhuang, during which he heralded JD's "active role in fighting the virus through its continuous delivery and smart technologies." He encouraged the company to continue applying its strength in technology and logistics toward coronavirus aid, and praised the protective measures taken for the headquarter's employees. Directed by CEO and Chairman Liu Qiangdong, leadership at JD.com has quickly utilized the company's vast resources toward containment of the disease, dissemination of pertinent information, and minimizing the overall impact of the virus on people's employment and livelihood.
JD.com has made considerable resource donations to various charities and hospitals, including 100 million masks and 60,000 units of medicine and medical supplies to the Hubei Charity Foundation. It has also donated an additional 80,000 masks to various hospitals in Wuhan, the epicenter of the outbreak that is currently under partial quarantine. Using its well-established supply chain network, JD.com subsidiary JD Logistics has also been providing delivery services to pharmaceutical companies in the Hubei province. To date, it has delivered over 1,600 tons of epidemic prevention materials to Wuhan and the surrounding areas from all over the country through the organization of a voluntary transportation channel. To ensure that the burden of these undertakings is not placed on the 250,000 merchants who use JD's warehouse services, JD.com has implemented subsidy support measures worth RMB 1 billion and intends to invest an additional RMB 100 million in expense reduction of logistics fees, traffic, advertisement, and promotion activity support.
JD has also maintained a steady flow of consumer goods during the crisis. In anticipation of the Chinese New Year celebrations, JD.com made sure that its inventory was well stocked for the festivities, but the virus outbreak has rapidly changed Chinese consumers' shopping habits. They are now avoiding grocery stores and supermarkets in favor of having their groceries and supplies delivered to avoid potential contamination, and with this shift JD has seen sales of common household staples such as rice and flour quadruple since the same time period last year. Well over the anticipated need, JD.com worked quickly and efficiently to ensure that its customers continued to have an open supply of daily food staples and everyday necessities. By collaborating with brand partners – sometimes even utilizing JD Logistics to pick up the necessary inventory directly from brand warehouses – JD has positioned itself as a reliable source for the needs of the public. Not wishing to infringe on consumer rights, JD.com has also committed itself to keeping the prices of its first-party products stable and is imposing penalties on third-party sellers that are found to have made unfair hikes.
JD.com has also created 35,000 jobs intended to minimize the impact of the virus on employment in the short term. These jobs include 20,000 positions at JD Logistics such as warehouse workers, pickers, couriers, and drivers. Per the partial quarantine, avoiding human-to-human contact is essential to prevent the spread of the virus, and as a result, there has been a marked increase in demand for online delivery services. Additionally, JD-backed Dada Group is working with restaurants and human resource organizations across the country to hire 10,000 additional couriers for its on-demand delivery company Dada Now.
Liu Qiangdong previously had experience operating a retail company during the 2003 SARS epidemic, so he knew the pressure that was being placed on businesses in Wuhan. As a result, JD Daojia, JD.com's branch for grocery delivery, is working to recruit upwards of 5,000 picking and packing positions, hiring employees from its supermarket partners that are temporarily closed or have had to reduce their workforce due to being out of stock. For those who are unable to leave their homes while caring for their family members, JD.com also has customer service positions available. A new onboarding process has been created for all of these positions to ensure a safe work environment, including being provided with necessary protective supplies such as masks and gloves, temperature checks at regular intervals, and disinfections. The new employees will also be provided with insurance specific to the coronavirus.
Similarly, JD Health is currently the largest pharmaceutical retailer in China, and it has been working in close collaboration with JD Logistics to ensure the fast and efficient delivery of medicines from its ecommerce site. During an epidemic crisis, focus is often drawn away from the treatment of other pre-existing diseases and illnesses, but JD Health has been working hard to ensure that those with chronic illnesses aren't put at further risk by having to venture from their homes to infection hotspots like hospitals to get their medications. As with its produce, the company is also taking steps to ensure that there are no drug price hikes during this time.
Understanding quickly the mounting pressure that hospitals and physicians would face in the wake of the epidemic, in late January JD.com's healthcare subsidiary JD Health introduced a free online consultation platform on its app. Using the app, patients experiencing symptoms such as cough, fever, fatigue, and diarrhea can speak directly with a physician at no charge. In early February JD Health expanded the scope of the app to include all diseases. The company now employs not only respiratory and infectious disease specialists, but also cardiologists, pediatricians, and other specialists ready to aid the public. JD has also organized several livestreams with some of China's top medical experts who had experience with the 2003 SARS epidemic. These livestreams will continue to cover a variety of coronavirus-related topics in an effort to further alleviate public anxiety.
In tandem with this release, JD Health has also begun offering a free psychological support hotline. This is a particularly valuable resource for medical professionals working around the clock at hospitals under increasingly intense conditions. These services work by reducing the risk of cross-contamination, providing timely consultations for patients who may not be able to leave their homes, and lessening the burden on hospitals. Panic can often cause the most minor symptoms to be blown out of proportion, and having convenient access to answers is imperative in preventing hysteria. During peak times, tens of thousands of patients have been served within an hour, and on average the app enables 100,000 consultations a day.
In addition to its consultation app, JD has worked with the local Wuhan government to integrate its smart assistant technology into the WeChat account of the mayor's office. Via the account, citizens can get coronavirus-related information and services with immediacy and acuity. Based on JD Cloud and AI's universal smart conversion platform, it can understand semantics and analyze syntax to get a quick and accurate understanding of the user's questions. JD's state of the art AI technology is equipped with question prediction, intent recognition, classification and identification, and similarity matching, making it an efficient solution to providing personalized epidemic information. Citizens now have quick access to answers on pertinent epidemic-related questions such as the proper way to wear a face mask, how to dispose of them once used, and how to proceed should they experience certain symptoms. Any question that the service is not able to answer is immediately transferred to a customer service representative. In addition to answering questions, the AI also provides services such as fever clinic inquiry, epidemic self-screening, medical guidance, and even a way to check if a user's recent flight or train ride had a coronavirus patient on it. This service has also been expanded to many additional cities, including Beijing, Jiangxi, Anhui, Shandong, Jiangsu, and Sichuan.
Liu Qiangdong made the continual development of technology a key tenet to JD.com, and they have committed themselves to utilizing technology as a last-mile delivery solution during the epidemic. Understanding the necessity of reducing human-to-human contact as much as possible during an epidemic outbreak, the company's autonomous delivery robot recently made its first delivery of daily necessities and donated medical supplies to the Wuhan Ninth Hospital. Although it has been utilizing its autonomous delivery robots for small- and medium-sized products since January 2019, this marks the first large package delivery made in the final stretch without human assistance. Continuing its efforts to find fast solutions to issues raised by the epidemic, JD has also begun to employ drone technology. In the Baiyang Lake area JD would ordinarily courier goods from the Xidi dock to a village across the lake by boat, but the route was temporarily suspended due to the outbreak. This turned a trip that was typically two kilometers into one that required a detour of over 100 kilometers by land. Instead of proceeding with this inefficient detour, JD employed one of its many drones to fly the packages over the lake. In mere minutes, the parcels were delivered to a predetermined location in the village where customers could retrieve them without any human-to-human contact. JD intends to continue this route for the duration of the quarantine, having found a unique and innovative solution that protects both its couriers and customers.
JD has also been contributing its advanced technologies to the service of its communities. It has made its cloud video conferencing service free to the public for both private individuals and enterprises, encouraging people to employ the service in lieu of risking exposure with human-to-human contact. For the students and teachers of the Hubei province that have not been able to attend school in weeks, JD is providing a free online classroom service. The sense of normalcy that this service provides is sure to have a consequential impact on the lives of those affected.
Throughout his career, Liu Qiangdong has always stressed the importance of making a positive impact through business. This sentiment has been translated into action in a multitude of ways during the coronavirus outbreak by JD and its subsidiaries. Whether through monetary contributions, social services, or drone and AI technology, JD.com is utilizing its resources to serve the public during this difficult time.
CorpGov Contact:
John Jannarone, Editor-in-Chief
www.CorpGov.com
Twitter: @CorpGovernor