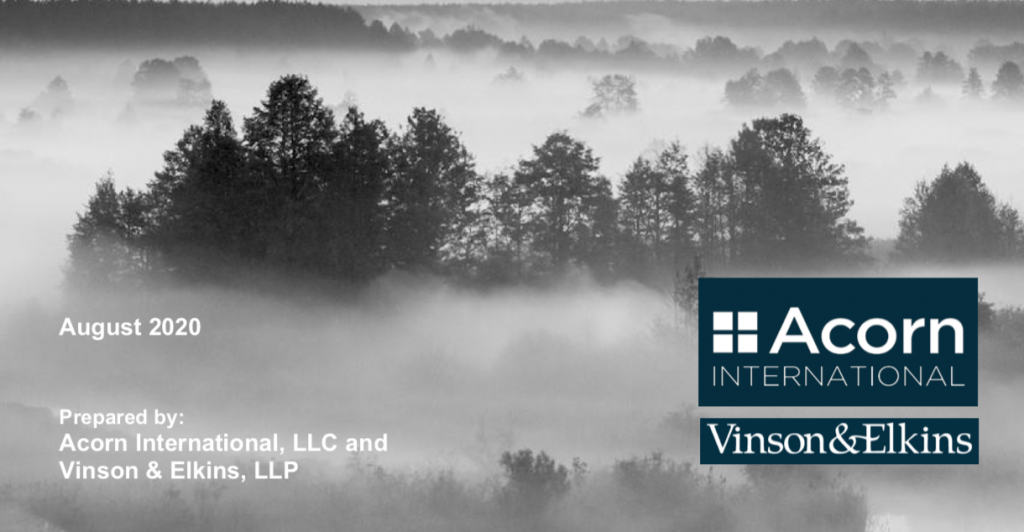 By Clarita Montant and Dean Slocum of Acorn International, and Tom Wilson of Vinson & Elkins
The rapidly increasing importance of a company's environmental, social and governance (ESG) performance to its business value, has been a critical trend leading into 2020.
This trend was accelerated by the COVID-19 pandemic, as it forced companies to act and think very differently about every aspect of their businesses, but especially about aspects of their ESG responsibilities. Critical questions about the meaning of ESG were raised in the context of having to make very fast decisions with limited information.
-What new ESG risks and opportunities are now in play?
-How will issues such as worker health, community engagement and equitable management of distributed workforces influence companies' purpose and strategy?
-And what steps will those businesses that will thrive in the post-pandemic world start to take now to mark them as tomorrow's leaders?
During the Spring and early Summer of 2020, a group of 25 business leaders from multiple sectors and countries[1] convened in a series of four focus group discussions to answer these questions. Participants shared their experiences, imagined ESG success in terms of company purpose; encouraged each other to "look around corners" for the next disruption, and re-thought solutions related to technology, risk assessment, workplace and relationships.
Drawing on the exchanges and analysis of the focus groups and the analysis, the hosts[2] drafted a paper that articulates considerations, risks, strategies, game-changing ideas, and ESG attributes that will assist companies in setting a course from the uncertainty of this pandemic to leading business performance in the new normal. The paper distilled several keys to thriving as we emerge from the Pandemic Lessons:
-Reimagining Company Purpose
-Building Tomorrow's Systems
-Risk Modeling
-Technology
-Workplace
-Relationships
-Measuring Results
-Data
-Profitability
The findings of the discussions included new ideas, organization models, and competencies that businesses will need to succeed as leaders amidst ever-more important ESG drivers. One of the key take-aways from the discussion includes the fact that the disruptions brought on by the pandemic have obliterated the confines of traditional expectations for public-private responsibilities, raising an appreciation for what businesses can and should do in crisis to maintain the well-being of their stakeholders as well as their bottom lines. But looking beyond crisis response, the disruptions have driven an appreciation that successful businesses must define, be guided by and consistently act on a company purpose.
Participants concurred that the businesses that will thrive in the future will be those that enhance abilities to predict and manage future high consequence-low likelihood incidents by recalibrating risk assessment and response models now – to be more agile and resilient, more open to a balance of imagination with rigor, and more inclusive of employees and host communities that can help provide early warning signals.
Technology was another important topic throughout the discussions. The participants viewed technology as a strength and believed that businesses should apply technology to strengthen their resilience, improve the accessibility of critical business information throughout the workforce and supply chain, and enable rather than replacing employees. That said, the participants recognized the immense inequalities related to access to technology and highlighted that it can broaden the divide between employees who are economically advantaged and those who are not. As such, technology should be utilized in a fair and equitable way.
Relationships were also at the heart of the discussions. During the pandemic, businesses had to foster and even rethink the relationships with and between their employees, as well as with their stakeholders. The focus group discussions highlighted that businesses that will thrive in the future will be those that start to build stronger, more agile and more resilient relationships with employees and other stakeholders, including by promoting more direct communication between employees and the C-suite. Doing so will help companies evaluate risks and opportunities in due time and also help them balance the disruption or impact of operations within communities and encourage continuity and reliability of business plans. The participants found this to be particularly important as businesses become more engaged in broader societal challenges to secure the resiliency of their operations – for example by providing food and water security, health systems and supplies, education systems, teacher access and materials.
Clearly recognizing the need for and committing to ESG progress is not enough – we need to get better at generating and managing performance data to drive real change. As more resilient, socially responsible strategies are rolled out during and following the pandemic, companies will need to strengthen ESG metrics to ensure they are both meaningful and aligned with company purpose and strategy.
Recognizing that profitability remains the fundamental driver of business, the focus groups explored how best to integrate the new, dual purpose of generating both shareholder and societal value. One crucial lesson is that businesses that are most successful in the long run will view ESG performance as an increasingly important contributor to a company's ability to generate sustainable profit and share price value, for example by recognizing and managing risks that, if ignored, would lead to lower returns.
As the focus group discussions progressed, we became aware of a second critical impact for business and our society. The suffocation of George Floyd's life in Minneapolis breathed new life into a demand for racial justice throughout the US and worldwide, both in awareness and action. For the focus group discussions and member companies, this meant urgent, deeper and broader consideration of business' role in fighting injustice and bringing diversity, equality and inclusion to the forefront of ESG. More discussions of the concepts raised are warranted as the rapidly developing trends around social responsibility and activism on behalf of racial justice continue to unfold. The outcomes of preliminary perspectives are included in the paper.
Above all, the paper reflects on what this monumental public health, socioeconomic and cultural disruption brought on by the COVID-19 pandemic has forced us to re-examine about what is essential in our personal and business lives – and what shifts we will need to make to thrive in the future.
Amidst the themes articulated above and expanded on in the paper, the focus group discussions revealed that thriving in the wake of the pandemic will require businesses to be resilient, humble, transparent and flexible when it comes to managing increasingly important ESG matters. Looking back from 2021, we will see that the leaders of tomorrow had started to apply the Pandemic Lessons today.
To access the full paper, please click here.
About the organizers and authors
Acorn International, LLC
Acorn International delivers the expertise, solutions and assurance that global businesses need to thrive in high-risk environments amidst community opposition, environmental liabilities and shareholder activism. We are a team of professional social scientists working with leading industries and investors worldwide to help "make good companies good neighbors.". To learn more, visit www.acornintl.net.
Vinson & Elkins LLP
Collaborating seamlessly across 12 offices worldwide, Vinson & Elkins LLP provides outstanding client service. The firm's lawyers are committed to excellence, offering clients experience in handling their transactions, investments, projects and disputes across the globe. Established in 1917, the V&E's time-tested role as trusted advisor has made it a go-to law firm for many of the world's leading businesses. To learn more, visit www.velaw.com.
[1]Members included large public company board members; socially responsible investors; CSR leaders from energy, extractives, food and materials industries; and tech/artificial intelligence leaders. Companies represented ranged from Chevron to Rio Tinto, GE, CEMEX, McDermott International and the African Development Bank.
[2] Clarita Montant and Dean Slocum of Acorn International, and Tom Wilson of Vinson & Elkins
CorpGov Contact:
www.CorpGov.com
Twitter: @CorpGovernor