Toshiba Corporation's 1 Trillion Yen ($9.5 Billion) Investment Plan Blindsided Shareholders
Toshiba Sets Operating Income as Growth Target at Potential Expense of Shareholder Value
Toshiba CEO Kurumatani Resists Modern Corporate Governance Standards
Other Japanese Companies Have Taken Far Bigger Strides to Improve Governance
Farallon, Effissimo Request More Transparency, Seek EGMs
Toshiba Trades at Steep Discount to Peers, Likely Reflecting Governance Concerns
By Jarrett Banks and John Jannarone
Toshiba Corporation was once the face of corporate Japan's global rise. As a 50 percent partner in Time Warner's film and television business in the early 1990s, it passed on the movie adaptation Michael Crichton's Rising Sun, in what was seen as a power move.
Although times have changed and the company is no longer involved in the film industry, Toshiba President and CEO Nobuaki Kurumatani seems stuck in the past when it comes to value creation and corporate governance.
Founded in 1875 just a few years after the Meiji Restoration that ended rule under the shogunate, Toshiba is much older than other Japanese electronics majors like Hitachi, Panasonic and Sony. But the usual way of thinking at Japanese conglomerates toward foreign shareholders—we've been running the show for centuries and don't care about your opinions—isn't going to cut it anymore.
Overseas investors bailed out Toshiba in 2017 by participating in a $5.4 billion share offering after accounting scandals and concerns about its nuclear power business threatened the Japanese company's survival. But now, Mr. Kurumatani doesn't want to listen to those investors or others seeking reform.
Toshiba's pursuit of growth in operating income rather than prudent value creation has been painful for shareholders, with the company making serial acquisitions that rarely worked out. There is a risk that Mr. Kurumatani hasn't learned from the past. So far, he appears concerned about making the company bigger rather than return on investment, which requires serious capital discipline.
Toshiba doesn't have a good track record of successfully integrating acquisitions, and investors are right to ask why this time could be any different. Major acquisitions and investments have led to write-downs, indicating Toshiba may have wandered into businesses where it didn't belong.
That has translated to an abysmal stock performance. The shares have fallen 47% in the last decade while the benchmark Nikkei 225 has nearly tripled.
The massive conglomerate, which employs 130,000 people, narrowly avoided a delisting from the Tokyo Stock Exchange three years ago after multibillion-dollar losses at its Westinghouse nuclear unit pushed liabilities beyond its level of assets. It was forced to sell its prized semiconductor business and take an infusion of cash from a large contingent of activist shareholders. The writedowns and accounting scandals triggered a management shakeup and the appointment of Mr. Kurumatani, the first outsider named CEO in over half a century.
Although Japan has made a concerted effort in recent years to bring corporate governance up to a higher standard, Mr. Kurumatani has been shifting strategy with the wind. In December, activist fund Farallon Capital, which owns a 5.37%stake, asked the conglomerate to convene an extraordinary general meeting of shareholders to seek approval before the company can make significant changes to the Toshiba Next Plan. Farallon said it was deeply concerned that Toshiba suddenly announced a growth strategy that was materially different from the plan already in place.
Amazingly, shareholders explicitly requested the ability to have a say on capital allocation policy at the 2020 annual meeting. That provision exists at many other Japanese companies but had been absent at Toshiba until last year. But just a few months later, Mr. Kurumatani essentially went rogue by announcing his big M&A plans.
Such a flagrant disregard for shareholders could cause trust in Mr. Kurumatani to erode. Any nods to the will of shareholders appear to be transactional moves designed to temporarily mollify them rather than earnest corporate policy changes.
But shareholders are unlikely to give up. Last year, Singapore-based activist fund Effissimo Capital Management, Toshiba's largest shareholder with a 10% stake, narrowly failed to install three directors on the Japanese company's board. This year, things could easily swing the other direction.
Then there are Mr. Kurumatani's political connections – which he has possibly used to interfere with shareholder votes. The Financial Times reported that, ahead of Toshiba's July 2020 AGM, the former head of Japan's Government Pension Investment Fund held private discussions with Harvard Management Co., which subsequently abstained from voting.
Equally alarming are signs of potential meddling in vote counts themselves. Another large Toshiba shareholder, 3D, discovered that the votes on about 5 million of its shares hadn't been counted by Sumitomo Mitsui Trust, the shareholder services firm that administered the voting for Toshiba. At the same time, Toshiba engaged Goldman Sachs to defend it against activists – a likely costly engagement that will burn precious resources.
Neither Toshiba nor Farallon responded to emailed requests for comment from CorpGov while Effissimo didn't answer multiple phone calls to its Singapore office.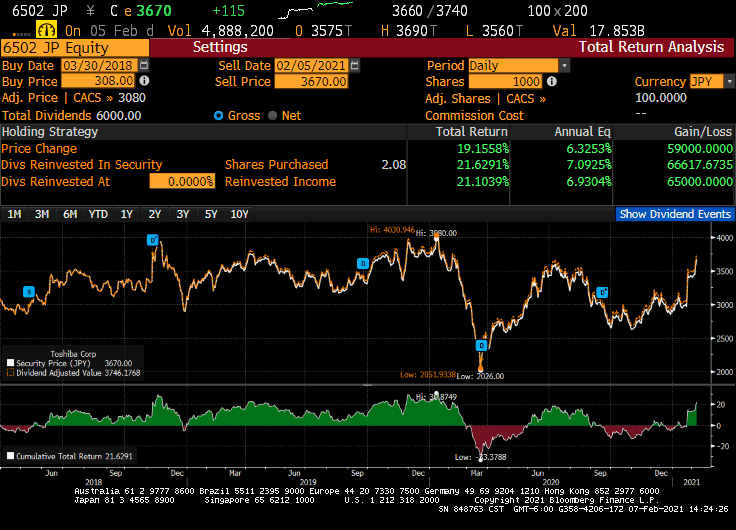 Shareholder Return Since Mr. Kurumatani Become CEO in April 2018 – Bloomberg
Mr. Kurumatani struggles with a dicey 58% approval rate among shareholders. That's partly due to questionable actions in 2020 such as Toshiba's buyout of chip-equipment maker NuFlare Technology along with accounting irregularities at its Toshiba IT-Service unit.
Toshiba returned to the top section of the Tokyo Stock Exchange on Jan. 29, after more than three years in its second tier. The inclusion will require passive funds to buy an estimated 58 million shares, or 13% of outstanding stock. This could have been a moment to rejoice for activist shareholders. But instead, Mr. Kurumatani has many shareholders worried about big M&A.
Toshiba should focus on growing organically, shedding money-losing assets and finding a sturdier financial footing. That would be of more value to shareholders in the long term.
Toshiba's share price indicates investors have little faith in current management's ability to do the right thing. Toshiba trades at a multiple of 13.6 times forward earnings, according to Sentieo, an AI-enabled research platform. That's among the lowest valuations in the company's peer group, with Nidec Corp trading at 54 times, Tokyo Electron LTD at 24 times, and Sony at 23 times.
But even a P/E multiple is an overly flattering way to benchmark Toshiba. The company is sitting on net operating losses worth at least a couple billion dollars. That suggests the market values the core business considerably less than its $16 billion market capitalization.
Mr. Kurumatani's tenure as CEO was supposed to restore confidence after years of mismanagement and scandals. Instead, he has generated little value for shareholders, with the stock going sideways until a very recent pop – likely due to the company restoring its status on the Tokyo Stock Exchange's first section rather than any prudent decisions by Mr. Kurumatani.
As an outsider, Mr. Kurumatani has a genuine opportunity to effect positive change at Toshiba – perhaps even to guide the company back to its former glory. But if he cannot find a way to get along with shareholders, there may be some painful days ahead.
Contact:
editor@corpgov.com
www.CorpGov.com
Editor@CorpGov.com
Twitter: @CorpGovernor