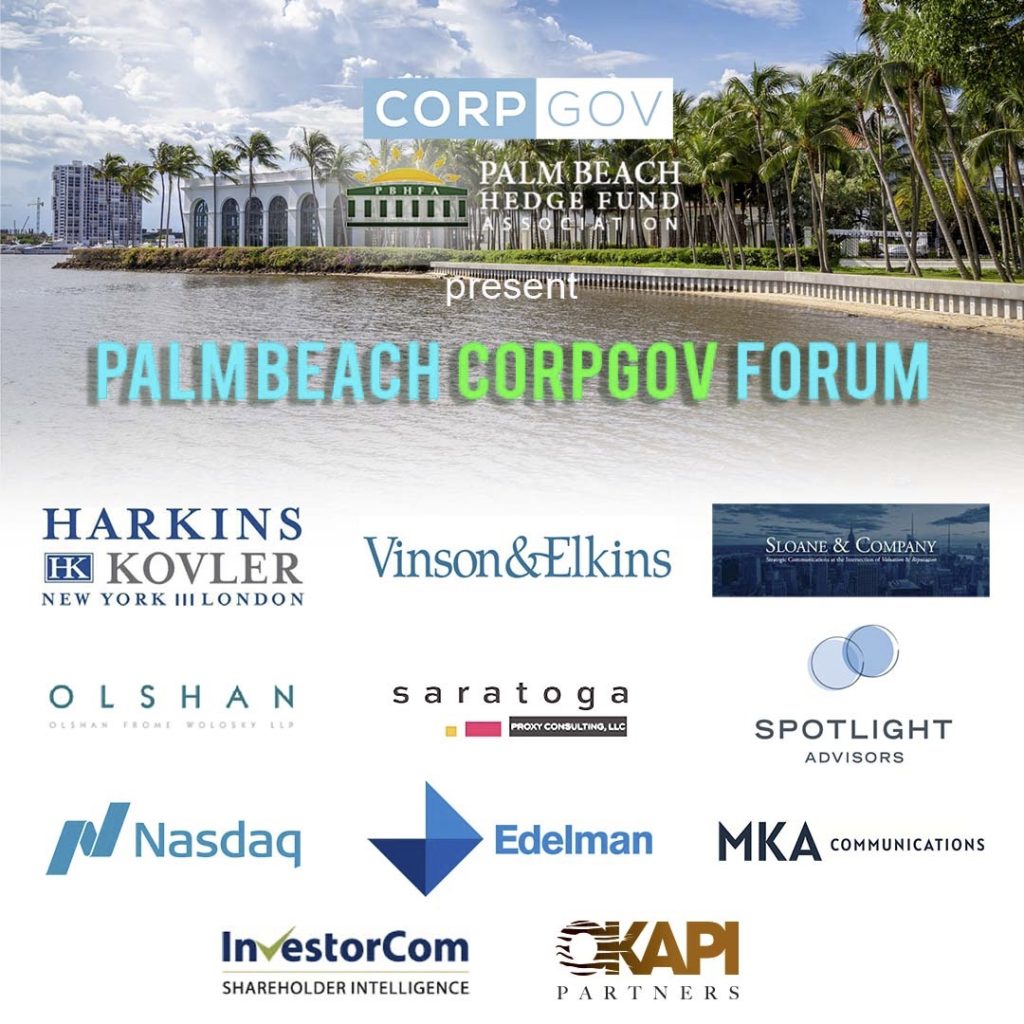 Charles Gradante, Co-Founder, Hennessee Group LLC, who currently runs a family office, joined the 2021 Palm Beach CorpGov Forum, where he discussed regulation of "meme" stocks and retail traders along with heavy options trading. He also addressed the prevalence of "naked short" positions taken by major market makers – actions that he believes should result in more severe punishment. Additionally, he voiced support for retail investors who forced a short squeeze earlier this year and nearly toppled Gabe Plotkin's Melvin Capital Management LP.
Mr. Gradante zeroed in on a phenomenon that has been neglected by mainstream financial media: the power of heavy call option buying to drive outsized moves in underlying stocks. In an ideal world, a market maker can match call buyers and sellers perfectly. But when call demand outstrips supply, market makers tend to sell calls themselves and also purchase underlying stock as a hedge, potentially triggering large price swings. While regulators are aware of the practice, they appear unsure how to manage it, he said.
Mr. Gradante spoke to CorpGov last year about the infamous battle between retail investors and hedge funds at the height of the Melvin Capital drama. At the time, he voiced concern about settlement risk and solvency among Robinhood and other larger broker dealers. Mr. Gradante is also known for sparking a legendary debate about the risk of hedge funds growing too large rather than focusing on finding investments where they have a competitive edge.
CorpGov, The Palm Beach Hedge Fund Association and Nasdaq, Inc. hosted the first Palm Beach CorpGov Forum on Sept. 30 for an in-person event featuring investors, attorneys and other advisors who have consulted on board intelligence and the most prominent activism campaigns in recent years. A complete report with more videos can be found here.
After a successful career at Citigroup, Mr. Gradante joined Drexel Burnham Lambert in 1986 and spearheaded the firm's efforts in Europe which led to his position as CEO of the failing Chelsea National Bank for which he engineered a turnaround and sale. He subsequently became a partner of the Hennessee Hedge Fund Advisory Group, then a part of E.F. Hutton and later spun off as a wholly-owned private company (Hennessee Group LLC), where he co-founded the Hennessee Hedge Fund Index (the first of its kind) providing hedge fund research to clients. The Hennessee Group LLC managed $1.6 billion. Not long afterwards, in the wake of the collapse of Long-Term Capital Management, Mr. Gradante repudiated public perception of the hedge fund industry as "ruthless risk takers threatening the stability of capital markets" when he testified before the House and the Senate in 1998 and again in 2004. In 2007, Charles predicted the subprime mortgage meltdown, which triggered a global financial crisis. He continues to manage money today in a private fund.
Contact:
John Jannarone
Editor-in-Chief
editor@corpgov.com
www.corpgov.com